Welcome to Clash of Steel!
---
Featured battle : Laon
Part of The French Revolutionary and Napoleonic Wars
Date : 09 March 1814 - 10 March 1814
In spite of being beaten at Craonne Napoleon pursued the Allied force which was withdrawing in good order towards a concentration point at Laon. Once at Laon Blücher stood, choosing his ground on a high steep ridge. Napoleon launched a series of probing attacks but had had no success when darkness fell. Marmont's force [VI Corps and I Cavalry Corps] had been approaching during the day and when darkness came halted some distance from the main force. Blücher attacked Marmont overnight and drove him away. Timidity in the face of Napoleon prevented the Allies from totally crushing the French. After a day of light engagements the French fell back owards Soissons.

Featured image :
Type 21 Frigate - HMS Alacrity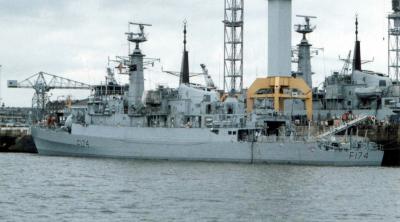 A veteran of the Falklands War, she was commissioned in 1977 and was sold to Pakistan in 1994.
Gallery updated : 2018-09-21 16:58:22
Featured review :
The Story of the 79th Armoured Division
serving officers


This book opens with an apology. The Author says that because the book was produced in a hurry just as the war was ending some actions may have been missed out. It was written by serving officers for the officers and men who had served and were serving in the units of the 79th Armoured Division. It covers the period October 1942 until June 1945 and was printed in Hamburg in July 1945. The Author may have felt the need to apologize to comrades whose actions were not included, but he has no need to apologize to the modern reader. The whole narrative reads as a fascinating, detailed account of the actions of this very special division. The text is well supported by photographs and maps. The maps are worthy of special attention being generously distributed through the book on pages which fold out and some have tracing paper showing unit movements as overlays. Not something one would expect to find in a modern publication. All in all, this is a real gem of a book, excellent despite the haste of its publication. It would provide a firm foundation for a modern author wishing to give greater access to these brave men in their specialized fighting vehicles.


Not lnown, July 1945



Reviewed : 2018-08-18 17:45:09
---