Welcome to Clash of Steel!
---
Featured battle : The Sambre
Part of First World War
Date : 22 August 1914 - 23 August 1914
The French Fifth army was sent into the area between the Sambre and Meuse to counter the German First, Second and Third armies who were marching west through Belgium. They met south-west of Namur, the French being quickly defeated and forced back. The Belgian defenders of Namur were soon overcome.

Featured image :
Crimean Infantry Officers uniform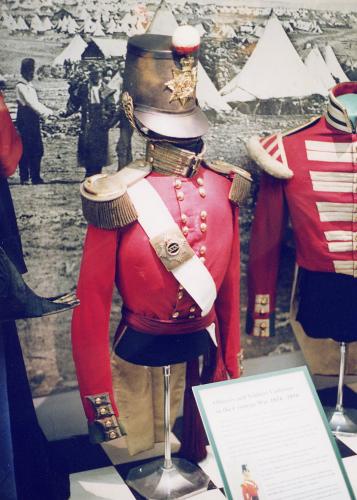 The uniform of an officer in the 19th foot during the Crimea, 1854-56.
Gallery updated : 2022-04-04 08:33:43
Featured review :
British Aircraft Carriers
David Hobbs


A wealth of knowledge presented in a most readable form for everyone from the novice to the initiated. Encyclopedic in scope it may be dipped into at any point but I found in reading cover to cover the fascinating story went from airships to future carriers. All aspects, design, development and service are dealt with. There are very many photographs, lots from the author's own collection, plus drawings and plans. An unusual but welcome feature are the fold out copies of Admiralty drawings which are in the middle of the book.
At £45 this is not a cheap book, but a Rolls Royce is not a cheap car, and this is a Rolls Royce of a book.


Seaforth Publishing. Pen & Sword Books Ltd., 2013



Reviewed : 2015-04-29 19:28:26
---