Anniversaries for today :
Welcome to Clash of Steel!
---
Featured battle : Meillerie
Part of The French Revolutionary and Napoleonic Wars
Date : 21 June 1815
The Allies were slow to get started on France's eastern border. This attack by Austrian cavalry, without any artillery support, threw back an all-arms force and chased it back to Evian.

Featured image :
"Dads Army" - Home Guard being put though his paces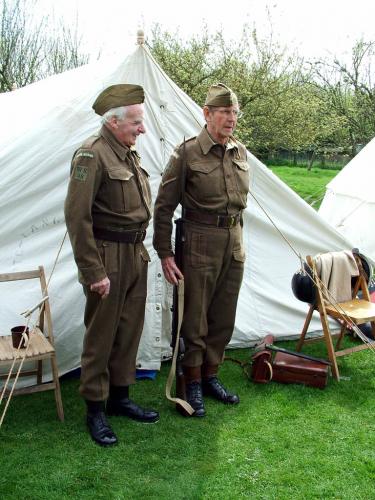 Members of the 'Mainwarinings Mob' re-enactment group who recreate a unit of the British Home Guard during WW2. Although too old to join regular units and some have argued of potentially limited value during an actual invasion, they were of great morale value to the home front. They also pay homage to the classic British television series 'Dad's Army' which first aired in 1968.
Gallery updated : 2019-01-06 16:35:56
Featured review :
Marengo
T. E. Crowdy


We have always known the plot of the story of the battle of Marengo reads more like fiction than fact. By 1630hrs on the 14th June 1800 the Austrians had won the battle of Marengo, their Commander in Chief left the battlefield to his deputy. By 2300hrs the Austrians had been routed and the French had won. Here, by the skin of his teeth, the myth of Napoleon's invincibility was born. The hero triumphs in the end.
T. E. Crowdy's Marengo is not a novel but an excellent factual account. However he fills out the facts with detail and evocative descriptions which grip the reader as a good novel should. For example, pg.168, as he writes about Napoleon's guards he can 'see' them and then the reader can too. It is obvious that Crowdy has done a massive amount of research and tried to place it before the reader with integrity and where necessary he has explained his dilemma. His note 4 to chapter 10 should be mandatory in every account of Napoleonic battles.
The book has 316 pages, 41 appropriate mono or coloured plates, a useful set of end notes and an extensive bibliography. As to the maps, 17 of them, I can only make my usual criticism of the absence of scale for the first six. Also included are five and a half pages of description of the topography of the battle field which gives the third dimension to the maps. Who can see what from where is an important factor on any battlefield.
This is a book has both story and information it can be both studied and enjoyed. We highly recommend it to all levels of readership



Pen & Sword Military, 2018



Reviewed : 2018-12-18 12:25:51
---