Welcome to Clash of Steel
---
Featured battle : Nauders
Part of The French Revolutionary and Napoleonic Wars
Date : 25 March 1799
The 3rd Division of the Army of the Danube again pushing forward defeated a smaller Austrian force. The Austrians continued to fail to concentrate forces of sufficient size and experience 1,450 of them surrendered.

Featured image :
English Civil War Foote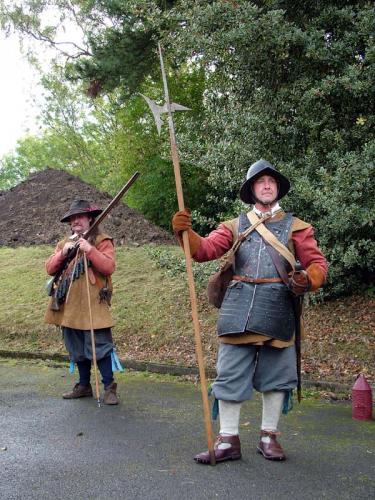 A pikeman and a musketeer from the 17th century. The pikeman in this picture actually holds a halberd, which would have been particularly effective against mounted opponents. He is also armed with a mortuary sword hanging to his left, and is protected by a pikeman's back and breast armour with a pot morion helmet. The musketeer in the left of the picture shows the much lighter arms of this branch. His only protection is his buff coat and his weapons. He carries the match-lock musket of the time, with a rapier for close combat and the powder charges and priming flask can clearly be seen. The event was an archelogical open day on The Mount, York, where evidence of a Civil War battery or sconce had been found prior to building work.
Gallery updated : 2018-08-16 14:49:12
Featured review :
Marshal Ney at Quatre Bras
Paul L. Dawson


Do we need another book about Waterloo? If they are like this we most certainly do. This book is different because of the primary source material researched to create it. The usual story is not trotted out without a fresh critical analysis. Within the book one chapter stands above all others for me and that is chapter 8. The movements of 1st Corps is a tale of mismanagement and confusion and has been a source of conjecture for all who study Quatre Bras. Paul Dawson makes, as clear as possible, the events of the day carefully weighing the evidence for the ultimate actions of the key players. He makes the confusion clear while bewailing the fact that verbal exchanges which could have played an important part on the day are lost to history.
This is a book for the Waterloo 'aficionado' written in a way which is easily accessible to the general reader.
I highly recommend this book and at the time of writing look forward to, the soon to be published, Paul Dawson's 'Waterloo. The Truth at Last'.


Frontline Books. Pen & Sword Books Ltd., 2017



Reviewed : 2017-10-18 11:35:56
---