Welcome to Clash of Steel!
---
Featured battle : Saragossa 1st siege
Part of The French Revolutionary and Napoleonic Wars
Date : 15 June 1808 - 17 August 1808
The first French target of the Peninsular war. Part of Bessièrs's reserve corps attacked but were repulsed losing 700 men. A siege was started with Verdier in command of the attackers. Major attacks on the 4th July and the 4th August gained ground but could not hold it. Verdier abandoned the siege on the 17th August.

Featured image :
Swiss Pz 61 Main Battle Tank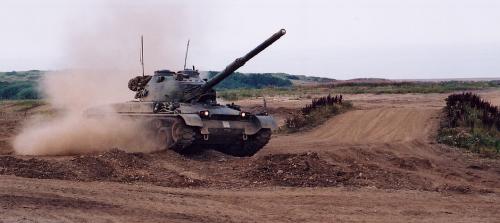 These images are of a rare Swiss tank dating from the 1970's. Up to the 1950's, Switzerland relied on imported tanks to furnish their army, but the Federal Engineering Works were commissioned to design on of their own and the 61 is the result. Mounting the same 105mm L7 main gun as used in British Centurion tanks of the same period, it also has a 7.5mm coaxial machine gun, and another 7.5mm anti-aircraft mount on the turret crew position. This particular tank is shown demonstrating at the Muckleburgh Collection's live tank display.
Gallery updated : 2019-01-06 16:35:56
Featured review :
US Military Helicopters (Images of War series)
Green, Michael


A treat for anyone who, like me, has a passion for military helicopters, this book is very much what it appears to be, 220 pages full of useful pictures and information on the US Army, Navy, Air Force and Marine Corps's rotor-based aircraft.

The book is split into 4 main chapters, covering early piston-engined helicopters, later gas-turbine workhorses (like the iconic UH-1 'Huey'), Gunships, and finally, well, everything else! Each chapter starts with a short, utilitarian description of the models covered in that chapter along with their capabilities, dates of service and developments. Then you're into the photos, at least three per double page along with captions that also contain plenty of useful detail. Some are images that you may recognise if you're familiar with the type or theatre of operations mentioned, but there are a good number I've never seen before and the coverage is good, from the earliest R-4B's, through Huey's, Piasecki's, Chinook's, UH-60's, Cobra's and Apaches, to even the V-22 Osprey (tilt-rotor) and the UH-72A Lakota. Reading cover to cover, or just dipping in, for recognition, modelling or simply interest, a great book to have to hand.


Pen & Sword Aviation, Barnsley, 2017



Reviewed : 2017-12-04 20:55:46
---