Welcome to Clash of Steel!
---
Featured battle : Soissons 2
Part of The French Revolutionary and Napoleonic Wars
Date : 03 March 1814
A very lightly contested negotiated surrender. In a move that almost amounted to treachery the Allies were handed this important river crossing just as Napoleon was closing in on them. The French were allowed to march out with six guns and no conditions which indicates how much te Allies want the crossing.

Featured image :
Pembroke War Memorial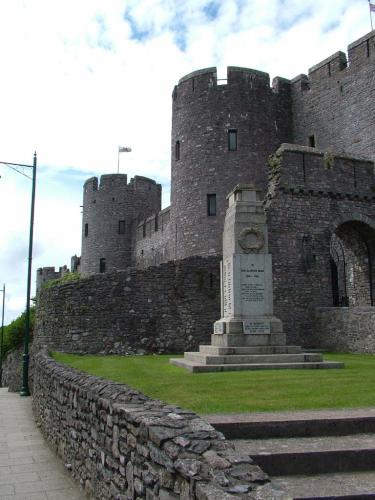 The war memorial outside the main entrance to Pembroke castle.
Gallery updated : 2019-01-06 16:35:56
Featured review :
The Badges of Kitchener's Army
David Bilton


This book has the wow! factor. Packed full of information, a real reference gem.
In its 351 pages, the badges of sixty nine infantry regiments are covered with explanatory text and over a thousand illustrations. Also, oft neglected, Divisional and Brigade badges are included. Every one of the illustrations of badges and of men wearing them is an original photograph. The text, often as an annotation to a photograph, is fully informative and where the author doesn't have the necessary knowledge he says so. I rather fear that, after his thirty years research, if David Bilton doesn't know then it is unlikely that the knowledge is anywhere to be found.
This book will be of interest to many people from the person with a passing interest to the most knowledgeable collector. I defy anyone who picks it up intending to look at one regiment to put it down with out looking at a few more.
We highly recommend this invaluable research tool.



Pen & Sword Military, 2018



Reviewed : 2018-11-16 14:35:17
---