Anniversaries for today :
Welcome to Clash of Steel!
---
Featured battle : Antietam (Sharpsburg)
Part of American Civil War
Date : 17 September 1862
The bloodiest single day throughout the whole war. What was intended by McClellan to be a coordinated attack by his superior forces against both of Lee's flanks at once degenerated into a piecemeal assault along the line which Lee was able to hold. Early in the morning Hooker, Sumner and Mansefield attacked Jackson on Lee's left flank towards the Dunker church. Stff resistance and artillery held the line for Jackson but near the centre, many of his veterans in a strong position in a sunken road died when they were flanked. It became known as the Bloody Lane. In the afternoon Burnside finally attacked Lee's right flank across a stone bridge over the Antietam Creek. Although the creek was fordable, he lost many men taking the bridge and just as he was making progress against Longstreet's right, all confederate reserves being commited, A.P.Hill arrived from Harpers Ferry smashing into Burnsides flank. Burnside withdrew, and night fell. The following day McClellan refused to renew the attack, and Lee recrossed the Potomac into Virginia.

Featured image :
War Memorial, Looe.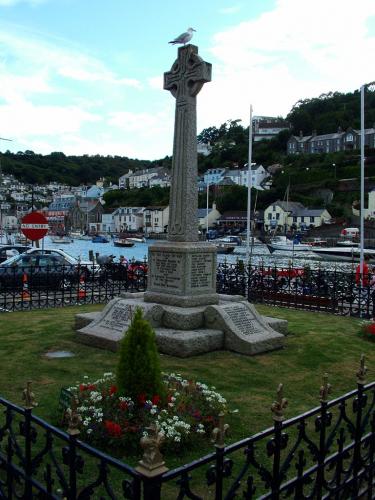 An elegant celtic cross war memorial to "The Men of Looe" in Cornwall of both the 1914-18 and 1939-45 wars. Also dedicated "In grateful appreciation of the services of those who returned".
Gallery updated : 2021-04-01 18:52:49
Featured review :
Waterloo. The Campaign of 1815, Volume I
John Hussey


We live in an age of over used superlatives and in that vein this book is superb, excellent, and wonderful. But on a serious plane, suffice it to say that, this book makes a significant contribution to the literature about the Waterloo campaign. It is a work of great scholarship going in depth into the political, military and human factors which, for this volume, culminate at Ligny and Quatre Bras. It could have been a very dry academic tome but is in fact presented in an easy, readable style.
As an example of this entertaining style at the end of the five page appendix on Bourmont's full and complex life Hussey concludes 'Marshall Bourmont died of old age at home in 1846. Who would have thought it?' This sentiment made me smile. What also pleased me was that Hussey, when he makes a judgement, only ever claims probability based on the evidence available, in doing so he shows endearing modesty after so much scholarship a lesser man would have been more didactic.
I feel it would be wrong (and difficult) to highlight any particular aspect of the narrative because the scope and depth is so large. From the recording of times of certain happenings, the clarity and speed of communications, to the character of Alexander, Tsar of Russia, and Wilhelm, King of the United Netherlands, all contribute to this fullest understanding of the campaign as it developed. This book answers so many questions for instance why didn't Wellington pay more attention to the intelligence coming in on the 14th June? That he didn't is stated in many books but here Hussey lists, with good supporting evidence, the dozen other important tasks the C in C was engaged with on that day. The fairly chaotic response to Napoleon's advance was because Blucher and Wellington gave little attention to a defensive plan focused, as they were, on an invasion of France. Wellington thought it would be foolish of Napoleon to attack; and Wellington, with a measure of luck, was proved correct.
Physically it is a large volume, 60 millimetres thick, 584 pages of text, 104 pages of supporting notes and a 22 page index. There are a few illustrations and a large number of good maps placed at the relevant places in the text.
This volume has set the new gold standard against which to measure books about 'Waterloo'. I cannot recommend it too highly. Now for volume II, Hurrah!




Greenhill Books, 2017



Reviewed : 2018-02-07 12:00:43
---