Welcome to Clash of Steel!
---
Featured battle : Quatre-Bras
Part of The French Revolutionary and Napoleonic Wars
Date : 16 June 1815 - 17 June 1815
One of the 'Waterloo' quartet of battles. Napoleon's left wing under Ney arrived at the crossroads of Quatre-Bras about midday on the 16th. The French were at that time at least 20,000 strong and were opposed by 8,000 unseasoned troops. But knowledge of Wellington in the Peninsular dictated caution which allowed the allies to build up their strength. They held the position against far superior forces until the end of the day. Not until 1800 hrs was their full strength achieved. Overnight Wellington ordered a general fall back to Mont St Jean. The fight on the 17th was mainly between the British cavalry/horse artillery rearguard and those few elements of the French which could get up with them. Although they had lost the position the allies regained some of the valuable time lost to Napoleon's initial surprise advance.

Featured image :
British WW1 Soldiers of Manchester Regiment - MUR3_tommy3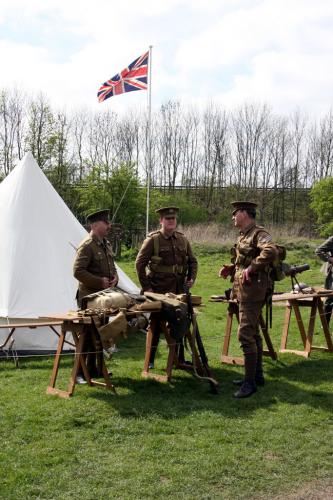 Re-enactors of the Manchester Regiment portray Tommy Atkins with his kit and equipment
Gallery updated : 2021-04-01 18:52:49
Featured review :
Torpedo Bombers 1900-1950, An Illustrated History
Jean-Denis Lepage


This is an unusual work, probably of more interest the the naval aviation enthusiast rather than the casual reader. It is split chronologically into sections based on significant periods during the years listed, covering the full range of the popularity and service of the type. Each section is then split into nations, and lists, it looks like, every single aircraft every designed to carry a torpedo. Of course it covers the classics such as the Fairey Swordfish, the Douglas Devastator, the Grumman Avenger, the Nakajima 'Kate'. But it also covers obscure prototypes that never made it into service, and early service machines like the Shorts Type 166 and the Aeromarine 700. Each main section has a brief introduction covering the main developments of that period, but it is the individual aircraft sections that are king here. Stats, development, service history and strengths/weaknesses are given for each type along with an illustration of it. And iIlustrated, this book certainly is. It is filled with the author's own grey-scale illustrations of I believe every airframe mentioned in the text, which while unusual, are effective in giving an impression of what the aircraft would have looked like, which is especially useful for those which are particularly rare and hard to find photographs of. Clearly a great deal of work has gone into this, and while it was difficult to read cover to cover, it will be an invaluable reference.


Pen and Sword Military, 2020



Reviewed : 2020-12-08 18:57:41
---