Welcome to Clash of Steel!
---
Featured battle : Kösen
Part of The French Revolutionary and Napoleonic Wars
Date : 21 October 1813
A French force was sent to destroy the strategic bridge at Kösen. In a fierce fight the Austro-Prussians held the bridge. The troops captured by the allies were from 7 different nations and some Polish Lancers of the Imperial Guard came over to the Allies.

Featured image :
Roman latrines, Housteads fort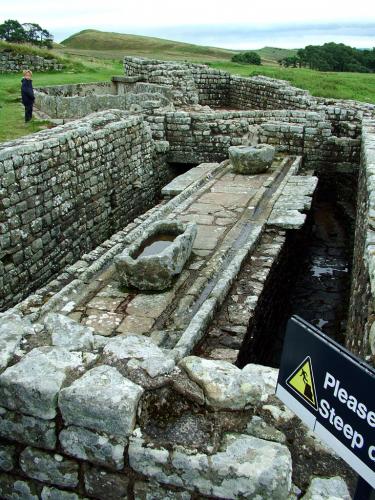 The large, deep trenches to the left and right would have been covered with long wooden boxes having holes in, upon which the Roman soldiers would have sat to 'perform their ablutions'. Water would have been running through the trenches to flush the waste away.It also flowed through the shallow gutters running the length of the latrine which was where the soldiers washed the cloth-covered sticks which were used instead of modern day toilet roll. Hence the phrase "don't get the wrong end of the stick".
Gallery updated : 2019-01-06 16:35:56
Featured review :
Arnhem. Battle for the island and evacuation.
Battlefield History TV Team


When I saw the picture on the case of this DVD I had very low expectations of the contents. The main character in the foreground is holding a Sten gun by its magazine and aiming it when it isn't cocked. This is very wrong firstly because when fired the magazine easily shakes loose and secondly one would need to move the weapon away from the sighting position in order to cock it.
When I came to watch the DVD I got a pleasant surprise, proving the old adage 'don't judge a book [or DVD] by its cover'.
I found a beautifully presented, accurate account of the final stages of the battle. This is the fourth film in the Operation market garden series. The strategic plan is simply told as is the tactical execution. There is a good balance of talk to camera by the experts and some veterans. The location of the battle as it is today is used as backdrop to aid the explanations of the developments. To balance the talk the film also includes maps, archive footage and re-enactor footage.
All in all it is good material well presented which kept me interested and entertained for the whole 80 minutes.



Pen & Sword Digital, 2013



Reviewed : 2019-01-07 14:32:13
---