Anniversaries for today :
Welcome to Clash of Steel!
---
Featured battle : Bamburgh Castle
Part of War of the Roses
Date : 25 June 1464 - 30 June 1464
After taking the surrender of Alnwick 23rd June and Dunstanburgh 24th June only Bamburgh held out as the last Lancastrian stronghold in the north. The battle is noteworthy in that it was the first time a battering train was used effectively in England. The kings great guns 'Dijon', 'Newcastle' and 'London' supported by bombardels successfully breached the walls giving access for Warwick's soldiers.

Featured image :
A Man-at-Arms of the Wars of the Roses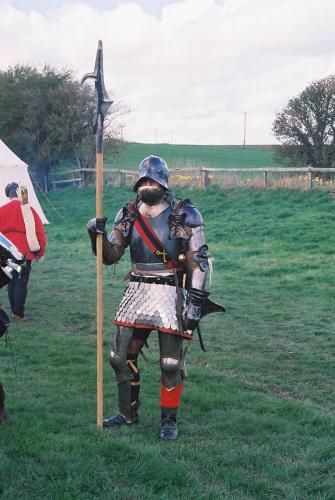 This man-at-arms wears quite an exotic suit of full armour of 15th century style and is armed with a bill polearm. Member of the Black Guard re-enactment group.
Gallery updated : 2018-09-21 16:58:22
Featured review :
Rome at War, Caesar and his Legacy
Gilliver, Goldsworthy & Whitby


A 3 part work covering Caesar's Gallic wars, his civil war, then a study of late Rome in 3rd to 7th centuries


Osprey, Essential Histories, 2005



Reviewed : 2011-09-30 00:00:00
---