Anniversaries for today :
Welcome to Clash of Steel!
---
Featured battle : Alcañiz
Part of The French Revolutionary and Napoleonic Wars
Date : 23 May 1809
The French, [Suchet's lll Corps] though outnumbered over all, were superior in guns and cavalry. Blake commanding quite a mixed bag of Spaniards gain an important victory. Consequent on this battle Suchet abandonned most of Aragon and Spaniards flocked to join Blake.

Featured image :
19th Century British Coatee jackets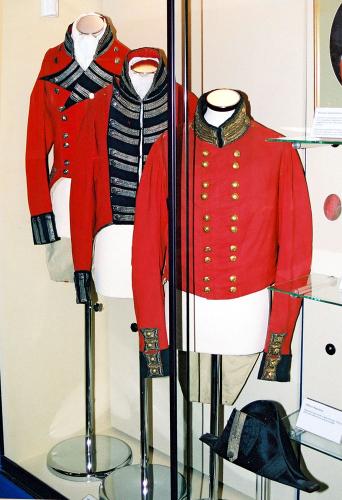 A set of Coatees and Infantry officer's hat as used by the 96th Regiment. From left to right they date from 1796-1816, a short-tailed coat from 1812, and 1829-54.
Gallery updated : 2019-01-06 16:35:56
Featured review :
Allied Coastal Forces of World War 11. Volume 11
John Lambert & Al Ross


This is not a book just to be read but to be owned. A quality publication in a large format, 290mm by 240mm, with over 250 pages packed with technical drawings, photographs and engaging text. Some publicity blurb says it would help anyone wishing to build a model but for some of the boats little more would be needed to build to full size craft such is the detail given.
Although it may look like a technical tome written only for experts, and it fits that role very well, it would also delight any general reader with an interest in naval development. So much extra is covered around the development and construction including the politics and finance under the Lend Lease arrangements, in a brief review it is difficult to do the book justice. The joint authors massive research has resulted in the listing of every boat built and its eventual fate, including a chapter about the ones which still exist in museums or as houseboats.
Small sections which caught my interest were the production of the various camouflage effects tried out in different theatres of operation, what the allowance of paint was for a US PT boat squadron to maintain its boat, that boats were sent to the USSR in kit form and the many were returned to the US in 1955 and that attempts were made to build an MTB to be carried aboard cruisers. So much is here including small details such as the personal weapons carried aboard that I think it would be difficult to ask a question about Vosper and Elco boats that this book does not answer.
This is the second of a three volume work and my regret is that I have not yet read the other two. This regret is reinforced by the many references in this volume to volumes one and three.
This is a major work on coastal forces unparalleled in both width and depth of its coverage.
We cannot recommend this book too highly.



Seaforth Publishing, 2019



Reviewed : 2019-05-17 10:53:32
---