Anniversaries for today :
Welcome to Clash of Steel!
---
Featured battle : Colberg
Part of The French Revolutionary and Napoleonic Wars
Date : 20 March 1807 - 02 July 1807
The Prussian defence was aggressive and determined. For the vanquished Prussian army this was one of the brightest spots in the whole campaign.

Featured image :
4th Battalion, Northumberland Fusiliers - Great War Memorial Arch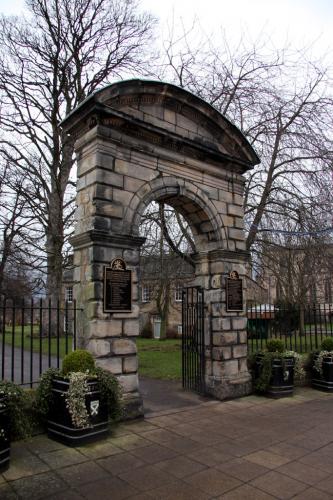 An arch, over the entrance to the central park, dedicated to the 4th Battalion raised from Hexham men.
Gallery updated : 2019-01-06 16:35:56
Featured review :
A Scots Grey at Waterloo
Gareth Glover


The sub-title on the cover is 'The Remarkable Story of Sergeant William Clarke' and that is just what this book is – a truly remarkable story. Clarke has written of his life from being a farm hand until, with the rank of Troop Sergeant Major, he left the regiment in 1825. The language is typical flowery early 19th prose. In the initial chapters much is in the Scots vernacular. Glover warns that the reader may find this challenging. But thanks in large part to Glover's translations and annotations, which on occasions correct Clarke on matters of fact, I found the style of writing gave authenticity to the text. The whole book is a good read but some sections deserve special mention. The Gypsy King's tale of his life as a soldier in the Seven Years war is illuminating. The account of the retreat from Quatre Bras is, in its detail, a clear indication of how well it was commanded and executed. What might have been a rout was anything but. Naturally the charge of the Union Brigade figures large and again shows us how every individual in a battle sees only his fight and never the whole battle. The final highlight, full of raw emotion, is Clarke's description of the killing field as he was one of the regiment's burial party on the 19th June. For example he reports seeing, among the heap of amputated limbs as he passed the field hospital, a leg which had belonged to a Highlander because it still wore the long socks which accompany the wearing of the kilt.
At times the book reads like a novel, other times a journal and at other times like the report of a war correspondent; at no time is it dull. The discovery, recognition and publication of an important manuscript are to be applauded.
We highly recommend it.



Frontline Books. Pen & Sword Books Ltd., 2017



Reviewed : 2019-03-19 11:58:04
---