Welcome to Clash of Steel!
---
Featured battle : Newark, third seige of
Part of The Civil Wars of the Three Kingdoms
Date : 26 November 1645 - 08 May 1646
The third and final seige of this key city at the junction of the Great North Road and the Fosse Way. The defences of the city had been improved throught the civil war, and by 1645 included extensive earth works and 2 large 'Sconces' or artillery forts to the north-east and south-west of the city. After the decisive battle at Naseby, General Poyntz with an army of Parliament, and Alexander Leslie commanding the Scots met and laid seige to Newark constructing two successive lines of circumvallation and steadily taking the outer lying strong points by applying overwhelming force at key points. By March 1646 the garrison inside the walls was suffering badly through hunger and disease but the Royalist commander, Lord John Belasyse still refused to surrender. King Charles, however, decided that the war was lost and came to Newark to surrender to the Scots army rather than to Parliament on 5th May and himself issued orders for the town to capitulate.

Featured image :
Spanish Civil War, International Brigade - The Commissar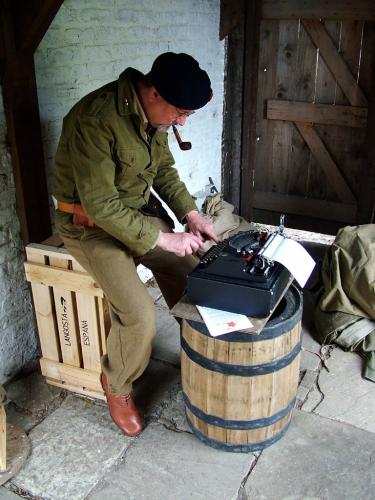 A member of La Columna, a re-enactment group representing the International Brigade during the Spanish Civil War. He is recreating the role of the Commissar, the person responsible in a Communist unit for morale, education, propaganda etc. He was also involved in disciplining those not thought 'of right mind' and would be able to order summary trials and executions. He is seen here typing up a report for higher command.
Gallery updated : 2021-04-01 18:52:49
Featured review :
Gurkha Odyssey
Peter Duffell


An odyssey is a long eventful journey and an appropriate title for this book. The story is of the author's journey with and in the Gurkha 'family'. The manner of its telling, in the main, is like a dinner party conversation with an excellent raconteur. In the telling not only do we see the Gurkhas but we see the author. Peter Duffell is a fighting man both with his men in the jungles of Borneo and for his men in the corridors of Whitehall. The period covered is from the early 1960s to 2018 with some coverage of early history. The unit focused on is the 2nd Gurkhas and therefore sadly does not include the Gurkha contribution to the Falklands war [7th Gurkhas].
The book is well illustrated with a dozen pages of colour plates and some super Ken Howard drawings. Nine maps, all with scales, help in the telling of the journey. There is more to Gurkha history than told here and this book is a taster which will leave you wanting to find out more.
Gurkha Odyssey is a most enjoyable cover to cover read which we highly recommend.



Pen & Sword Military, 2019



Reviewed : 2019-11-07 13:56:22
---