Welcome to Clash of Steel!
---
Featured battle : Schliengen
Part of The French Revolutionary and Napoleonic Wars
Date : 24 October 1796
The Austrians continued to harrass the French withdrawal. Here Moreau stood to make his crossing of the Rhine back into France. Only two small bridgeheads, Kehl and Hüningen, on the east bank of the Rhine were left in French hands.

Featured image :
Towton Memorial Cross - Holy Day 2009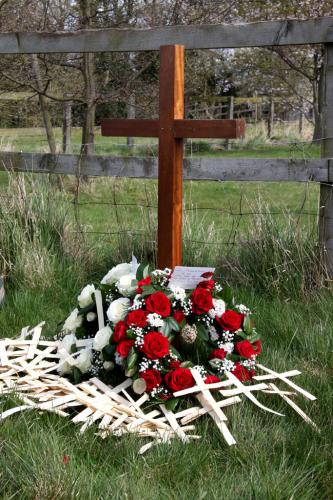 A small cross, dedicated in the annual Towton Battlefield Society event to mark the battle. It commemorates the fallen of both sides in a restrained and poignant way.
Gallery updated : 2021-04-01 18:52:49
Featured review :
Mussolini's Defeat at Hill 731
John Carr


Having enjoyed John Carr's book The Defence and Fall of Greece [review elsewhere on this site] I feared this book would be a rehash of a lot of the same material. My fears were groundless the focus is firmly on the battle for hill 731. Indeed it is so much so that I was glad to have read the books in the order I did as that gave the full context for the gruelling battle.
Within the grand scheme of the Second World war this battle was a small side show. One hill in Albania being fought over by the Greeks and the Italians. The truth about grand schemes is that they come down to individual men, the poor bloody infantry, to make them work or to foil the plans of the enemy. In this book John Carr tells the story of lots of individuals in a gritty gripping way. It is not a pretty tale but it fills the reader with wonder and admiration for the soldiers of both sides who fought for hill 731.
This book works on so many levels it can be read as a great war story or it can be seen as an important spotlight on part of what is an often overlooked front in WW2.
We highly recommend it.



Pen & Sword Military, 2020



Reviewed : 2021-01-01 11:21:11
---