Welcome to Clash of Steel!
---
Featured battle : Cholet
Part of The French Revolutionary and Napoleonic Wars
Date : 17 October 1793
The Republicans, although outnumbered almost two to one succeeded in inflicting heavy casualties [one in five] on the Vendée Royalists.

Featured image :
Roman marching camp - Contubernia tents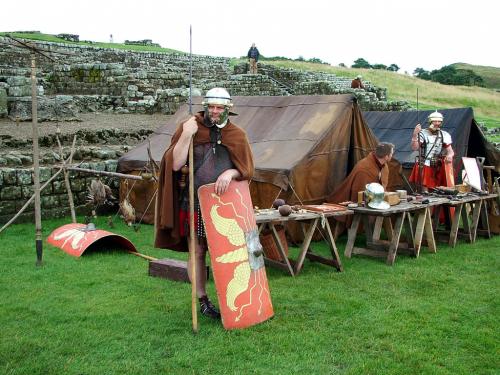 Members of the Ermine Street Guard display equipment used in Roman times along with two excellent campaign tents which would have housed up to 8 legionaries with their equipment. These tents have been accurately re-created using authentic materials and techniques from archeological investigations. They are hand stiched from sheets of leather and each took many hundreds of man-hours to complete.
Gallery updated : 2019-01-06 16:35:56
Featured review :
Code Talker
Nez, Chester & Avila, Judith Schiess


A touching account of both the creation and use of the Navajo code used by the US Marines in the Pacific theatre from one of the original 29 code talkers recruited in 1942. It recounts Chester Nez's involvement in the creation and use of the Navajo code, unfathomable by anyone who wasn't a native speaker and considered impossible to learn, hence unbreakable by the Japanese.

But not only is this an account of his and his fellow Navajo specialists' traumatic war from Guadalcanal to Guam and Peleliu. It is also a moving account of life as a Native American child growing up in a harsh land in the 1920's and 30's, caught between two cultures. It deals sensitively with his post traumatic stress disorder on returning from the pacific and his tribal, community approach to dealing with it. Running throughout is a strong sense of faith in the Navajo 'Right Way' of living and of justified pride in the way the native American community contributed to the war effort.

A unique account, from one of the originals and highly recommended for anyone studying either the Pacific Theatre of operations or pre-war America.


Berkley Caliber, New York, Oct 2012



Reviewed : 2013-02-11 00:00:00
---