Welcome to Clash of Steel!
---
Featured battle : Talavera
Part of The French Revolutionary and Napoleonic Wars
Date : 27 July 1809 - 29 July 1809
Famous victory over King Joseph Bonaparte's French troops, by Sir Arthur Wellesley, later Duke of Wellington. It was for this victory that he was created Viscount Wellington of Talavera. The British held a small ridge overlooking the plain and the initial French attacks were launched piecemeal against this front. Frontal attacks continued through the night and next day. On the morning of the 29th the arrival of the British Light Brigade [having marched 42 miles in 26 hours] hastened the French dis-engagement and withdrawal.

Featured image :
Gloster Javelin FAW Mk5 XA 699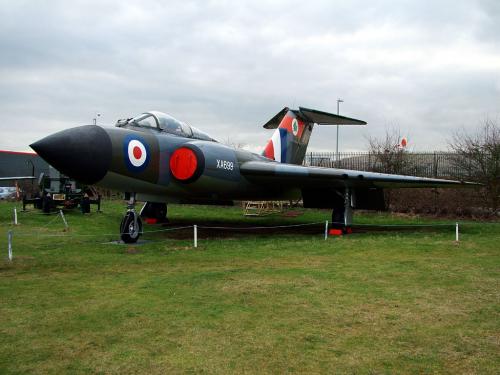 The first twin engined delta-winged jet, the Javelin saw sevice with the RAF from 1956-68. An impressive all-weather fighter, nearly 400 were built, although this Mk 5 is thought to be the only one remaining of it's type.
Gallery updated : 2019-01-06 16:35:56
Featured review :
Man of War
Anthony Sullivan


Having very recently read about the development of the supply system for the Baltic fleet [see Transformation of British Naval Strategy review on this site] I developed an interest in the career of Admiral Saumarez. Quite fortuitously I found Anthony Sullivan's new book on the life of the man himself. The book covers the whole of his life and, as one would expect from the title, gives a lot of information about his naval career. The ships he served on, the ships he commanded, the squadrons and fleets he eventually led, as well as the actions he was in are all there. Saumarez did not fight in the battle of Trafalgar and, to the authors credit, that battle gets only a paragraph in passing. The author has done his research and does not need to pad out the narrative. The book is without illustrations but has a sufficient number of maps and battle plans to support the text.
Saumarez was a remarkable fighter, a true naval hero, a family man and a man of his time who was not free of some minor blemishes this I know from reading this excellent book.


Frontline Books. Pen & Sword Books Ltd., 2017



Reviewed : 2017-08-30 18:45:44
---