Welcome to Clash of Steel
---
Featured battle : Pinkie Cleuch
Part of Anglo-Scottish Wars
Date : 09 September 1547 - 10 September 1547
The Scottish army [25,000] under the Earl of Arran were deployed along the river Esk in a position that would be very difficult to take by frontal assult. The English [16,000] under the Duke of Somerset although numerically weaker were superior in cavalry and artillery, and were supported by the fleet off shore. On the 9th the Scottish cavalry crossed the river and taunted the English to attack. This they did and the Scottish cavalry were destroyed as a fighting force. On the 10th the English began a move to their right and the Scotish response was to cross the river Esk. [Still a controversial move]. Once on this flat land without the river as a defence, the English superiority in cavalry and artillery soon won them the day.

Featured image :
German 88mm Anti-Aircraft Gun and Argentine 20mm AA gun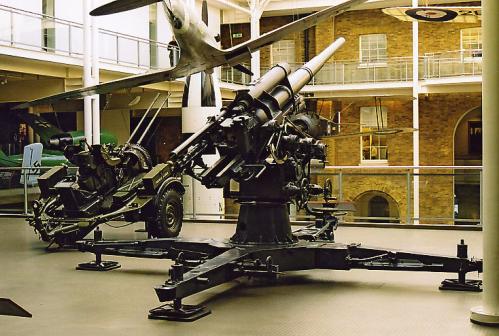 The premier, multi-purpose gun of the second world war, the German 88 was respected and feared wherever it was encountered. A high muzzle velocity, good accuracy and penetrating ammunition, as well as plentiful production meant that this AA gun could double as an anti-tank gun, which could destroy almost any allied armour from considerable range. Although as an AA gun it was inferior to the British 3.7in Mk6, it was available in considerably greater quantity and was much more flexible. This particular example is a Flak18 barrel mounted on a Flak36 cruciform mount, dates from 1939 and fired a 9.4kg shell with a ceiling of 9900 metres - the anti-tank variant could fire a 10.4kg AP shell 17,500m. Also included in the left-most picture, to the left of the 88, is a twin-barreled 20mm Anti-aircraft gun used by the Argentine Air Force during the Falklands War of 1982. It is a Rheinmetall Rh 202 mk20 and is still used by several NATO forces in the light, mobile AA role.
Gallery updated : 2016-02-21 17:33:57
Featured review :
British Cruisers. Two World Wars and After
Norman Friedman


Wow! Another book from this author and publisher with the 'wow' factor. Lavishly illustrated with a photograph or line plan on almost every page. The text is packed with technical information, detail, and description of design, construction and application of these important ships. I read it cover to cover finding many nuggets of information on the way. e.g. One particular cruiser fresh out of dock had a range of 12,000nm; the same ship after eight months cruising was 'deep and dirty' had a range of only 8,000nm. This book is a must for every Royal Navy enthusiast and would be of interest to the general reader. This is the kind of reference book where you find what you are looking for and are then temped to go on reading. Highly recommended.


Seaforth publishing. Pen & Sword Books Ltd., 2010



Reviewed : 2016-06-28 08:24:21
---