Welcome to Clash of Steel
---
Featured battle : Huy [1]
Part of The War of the Spanish Succession
Date : 15 August 1703 - 26 August 1703
The town and fortress complex was invested on the 15th and the town fell the next day. Covering French forces were either driven off or withdrew and the forts Joseph and Picard fell on the 24th. A significant breach was made in the castle wall and the governor surrendered. These troops were later exchanged for the allied troops taken at Tongres.

Featured image :
HMS Victory, the Quarterdeck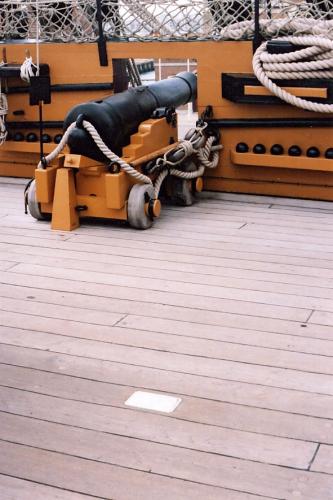 A section of the Quarterdeck showing, in the foreground (and in the detail picture), a brass plaque marking the point where admiral Nelson fell during the Battle of Trafalgar to musket fire from the Redoutable. He died later, on the orlop deck with the knowledge that the battle was his. In the background can be seen one of the 12-pounder cannon arming this deck.
Gallery updated : 2016-02-21 17:33:57
Featured review :
In the Peninsula with a French Hussar
A J M De Rocca. Intoduction by Philip Haythornthw


De Rocca's account was first published in English in 1815. This book is the unabridged presentation of that work with a new introduction by Philip Haythornthwaite and additional maps. De Rocca was not involved in any of the major battles in the Peninsula and that is the most valuable part of this book. It is a rich insight into all the other tasks performed by light cavalry in support of an army of occupation. Garrison duties, scouting, escorting and dispatch carrying all feature in the day to day tasks which De Rocca carried out. The underlying theme running through all his duties was finding enough to eat for himself and his horses. For the general reader I would recommend this book as a jolly good read maintaining interest from beginning to the end. For the military buff I can recommend this unique insight into the effects of the Spanish Guerrillas on the front-line fighting ability of the French as seen through the eyes of one who was there.


Frontline Books. Pen & Sword Books \ltd., 2017



Reviewed : 2017-06-30 10:58:36
---