Welcome to Clash of Steel
---
Featured battle : Silistria
Part of Russo-Turkish war, Ninth
Date : 03 June 1810 - 11 June 1810
The large Russian army under Count Kamenskoi made brief work of taking this town. Fatalities were light on both sides and the Turks were allowed to go free but without baggage, or arms. The Russian gained a considerable amount of military materials and 196 guns.

Featured image :
Spanish Civil War, International Brigade - The Commissar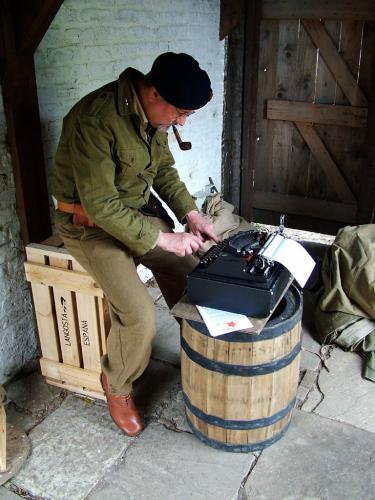 A member of La Columna, a re-enactment group representing the International Brigade during the Spanish Civil War. He is recreating the role of the Commissar, the person responsible in a Communist unit for morale, education, propaganda etc. He was also involved in disciplining those not thought 'of right mind' and would be able to order summary trials and executions. He is seen here typing up a report for higher command.
Gallery updated : 2016-02-21 17:33:57
Featured review :
Pepy's Navy. Ships, Men and Warfare 1649-1689
J D Davies


As my Grandfather used to say when finishing a meal 'Well that's filled a gap!' This excellent book will fill a gap on many bookshelves covering, as it does, a fascinating period of naval development. It is well researched, beautifully illustrated and written in an easily read manner. By all means read it from cover to cover as I did but it will be found just as enjoyable if the reader dips in at any section. For anyone following through any themes in the history of the navy there is a bonus in that the author has tried to follow the layout of Brian Lavery's seminal work Nelson's Navy in order to compare and contrast the navy in these two significant periods of its history.
This book is an impressive piece of work and is thoroughly recommended


Seaforth publishing. Pen & Sword Books Ltd., 2008



Reviewed : 2016-10-25 19:11:41
---