Anniversaries for today :
Welcome to Clash of Steel!
---
Featured battle : off Dutch Coast
Part of Anglo-Dutch War, Third
Date : 28 May 1673
The English fleet, commanded by Prince Rupert, was patrolling off the Dutch coast. They came upon a Dutch fleet, under Van Tromp, of approximately equal size and to leeward. The English attacked and after a brief engagement the Dutch withdrew to the safety of the sandbanks off their coast.

Featured image :
French AMX 30 Main Battle Tank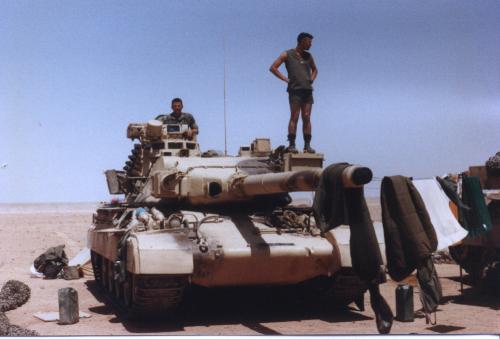 An AMX 30, crewed by French Foreign Legionaires showing the human side of war. Even in war, kit and equipment needs to be maintained, and gun barrels can double as good clothes lines. It is armed with a French-made 105mm main gun, and a 20mm GIAT cannon co-axially mounted.
Gallery updated : 2019-01-06 16:35:56
Featured review :
The Forgotten War against Napoleon
Gareth Glover


Initially I was confused. I'm not sure what I expected but it wasn't this. It didn't seem like a Gareth Glover, a writer I admire immensely. It is about conflicts around the Mediterranean which I knew of and were in no way forgotten. The chapters were short and pithy, with a wealth of footnotes. However once I got into the swing of the book, and it does swing along, I found I was greatly enjoying it. In effect it became a Gareth Glover. It is written in a most readable style with loads of well researched information. The book has 56 chapters, the shortest only one page long, 16 illustrations, all contemporary with the events, and 33 maps.
For me the true value of this book is that it connects events which are most usually only studied in isolation. What the author has demonstrated is the inter-connection between seeming disparate events. The connection coming about because they are on or of the Mediterranean.
When I finished this book I was sorry it wasn't longer. It is a tour de force and reminded me of areas which I now want to revisit and to read more about in greater detail. It is an excellent overview. The only thing wrong with it is the title.



Pen & Sword Military. Pen & Sword \Books \Ltd., 2017



Reviewed : 2017-09-13 19:07:46
---