Welcome to Clash of Steel!
---
Featured battle : Tauffers [2]
Part of The French Revolutionary and Napoleonic Wars
Date : 04 April 1799
The Austrians, Bellegarde, took ten days to get together a force with which to mount a significant counter attack. With more than two to one the Austrians gained a significant victory but again wasted time by not following it up.

Featured image :
RAF Tucano T mk 1 Trainers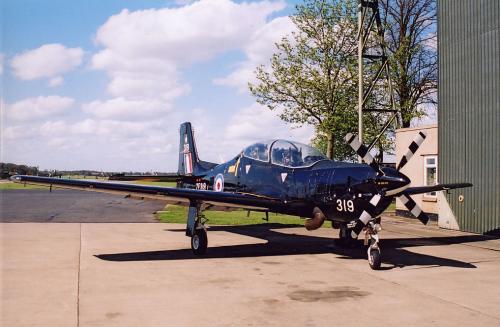 These two pictures show aircraft from the two squadrons comprising No.1 Flying Training School at RAF Linton-on-Ouse. The aircraft themselves are Tucano T1's designed by Embraer of Brazil but assembled by Shorts of Belfast, Northern Ireland. They are powered by a Garrett Turboprop developing 1151 static horse power and can reach 350mph and 25,000 feet altitude. They are also fully aerobatic, stressed from +6 to -2.5 G. The aircraft on the left is from No. 72 (Reserve) Squadron and that on the right No.207 (Reserve) Squadron.
Gallery updated : 2019-01-06 16:35:56
Featured review :
The Story of the 79th Armoured Division
serving officers


This book opens with an apology. The Author says that because the book was produced in a hurry just as the war was ending some actions may have been missed out. It was written by serving officers for the officers and men who had served and were serving in the units of the 79th Armoured Division. It covers the period October 1942 until June 1945 and was printed in Hamburg in July 1945. The Author may have felt the need to apologize to comrades whose actions were not included, but he has no need to apologize to the modern reader. The whole narrative reads as a fascinating, detailed account of the actions of this very special division. The text is well supported by photographs and maps. The maps are worthy of special attention being generously distributed through the book on pages which fold out and some have tracing paper showing unit movements as overlays. Not something one would expect to find in a modern publication. All in all, this is a real gem of a book, excellent despite the haste of its publication. It would provide a firm foundation for a modern author wishing to give greater access to these brave men in their specialized fighting vehicles.


Not lnown, July 1945



Reviewed : 2018-08-18 17:45:09
---