Welcome to Clash of Steel
---
Featured battle : Homildon Hill
Part of Anglo-Scottish Wars
Date : 14 September 1402
The Scots on a raid in strength reached Newcastle before turning for home. The Percys managed to interpose their force across the line of retreat. The English were massively outnumbered and could not hope to win a melée especially with the Scots holding the high ground. The English archers began to decimate the Scots from long range and when the Scots left their hill top to attack the archers retreated all the time keeping up a withering fire. The Scots broke and in flight were attacked by the hitherto unengaged mounted English men-at-arms.

Featured image :
General Cronje's Commandants.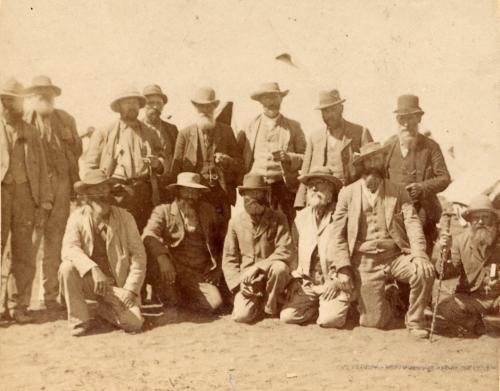 A photograph entitled "Gen. Cronje's principle Commandants - surrendered to Lord Roberts, Feb 27th, S. Africa." showing a group of senior Boers reputedly taken by the British after Paardeberg. Currently I have no names to put to faces - anyone recognise anyone? Nice illustration of Boer dress of the time.
Gallery updated : 2016-02-21 17:33:57
Featured review :
The Dutch in the Medway
P. G. Rogers


Before reading this book you wonder why Seaforth would re-published a 1970 book. When you have finished it you'll say 'I'm glad they did'. The subject is one small but very important battle in the Second Anglo-Dutch war. The author places it in its historical context both the before and after. The writing style is such that reading it is easy, it is detailed enough for the military buff, but not at the expense of the general reader. The text is supported by sufficient maps and a few well chosen illustrations which includes a print of a contemporary map. The author's explanations and opinions are well supported by quotations, included in the text, from the writings of people at that time. His sources, listed at the end of the book, are many and varied.
We thoroughly recommend this book.
If you are left wanting to know more about the Royal Navy in the latter half of the Seventeenth century then 'Pepys's Navy' by J.D.Davies, reviewed elsewhere on this site, is the book for you.


Seaforth Publishing. Pen and Sword Books Ltd., 2017



Reviewed : 2017-04-04 06:37:43
---