Anniversaries for today :
Welcome to Clash of Steel
---
Featured battle : Hof
Part of The French Revolutionary and Napoleonic Wars
Date : 06 February 1807
Murat's Reserve Cavalry Corps with infantry support caught the Russian Rearguard [Barclay de Tolly]. Fierce fighting resulted in serious losses on both sides. While the rear guard was pinned the whole Russian retreat slowed and this convinced Napoleon that a major battle was imminent.

Featured image :
Boer Trek Vrou, tending camp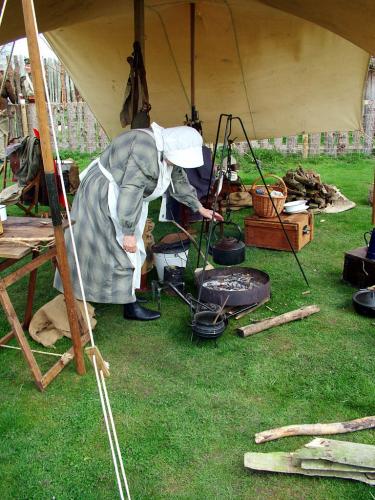 Images of one of the un-sung heroines of the Anglo-Boer War - the steadfast Boer wives who provided for the fighters in the line and who, ultimately, were so poorly treated by the British policy of concentration camps (not to be confused with the later Nazi implementation of that concept). Member of the Heilbron Commando living history group.
Gallery updated : 2016-02-21 17:33:57
Featured review :
Man of War
Anthony Sullivan


Having very recently read about the development of the supply system for the Baltic fleet [see Transformation of British Naval Strategy review on this site] I developed an interest in the career of Admiral Saumarez. Quite fortuitously I found Anthony Sullivan's new book on the life of the man himself. The book covers the whole of his life and, as one would expect from the title, gives a lot of information about his naval career. The ships he served on, the ships he commanded, the squadrons and fleets he eventually led, as well as the actions he was in are all there. Saumarez did not fight in the battle of Trafalgar and, to the authors credit, that battle gets only a paragraph in passing. The author has done his research and does not need to pad out the narrative. The book is without illustrations but has a sufficient number of maps and battle plans to support the text.
Saumarez was a remarkable fighter, a true naval hero, a family man and a man of his time who was not free of some minor blemishes this I know from reading this excellent book.


Frontline Books. Pen & Sword Books Ltd., 2017



Reviewed : 2017-08-30 18:45:44
---