Anniversaries for today :
Welcome to Clash of Steel
---
Featured battle : Tory Island
Part of The French Revolutionary and Napoleonic Wars
Date : 12 October 1798
In what was known as the Lough Swilly expedition a very weak French invasion force, one ship of the line and nine frigates, was caught by a strong British squadron under Commodore Warren. The ship of the line and three frigates were taken on the day and most of the remainder taken subsequently. Only two of the frigates made it back to Brest.

Featured image :
English foot soldiers of the Wars of the Roses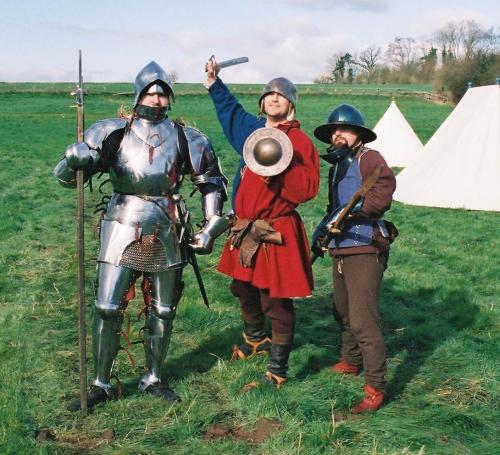 Here are depicted three different types of foot soldier from the time of the battle of Towton, 1461. On the left, he is a fully armoured man-at-arms with battle axe. In the centre is a foot soldier in the livery of the House of York armed with sword and buckler and a salet on his head but little other armour. Finally on the right is a billman, armed with an Englist bill, and partially armoured. Re-enactors are from the Company Palm Sunday 1461 group.
Gallery updated : 2016-02-21 17:33:57
Featured review :
Handbook to Roman Legionary Fortresses
Bishop, M C


Providing exactly what the title suggests, this is primarily a gazetteer of all currently known Roman Legion bases, each with well referenced details such as location, situation, size, orientation etc. as well as the units that were based there together with line drawings and photographs. The handbook also contains appendices of Legionary timelines and a clear list of fortresses listed in the Notitia Dignitatum. The introductory section is short, but focussed carefully on the architecturally important details that pertain to Legion bases, and while well written, does assume a reasonable working knowledge of Roman military history. The bibliography is truly huge, and all in all this handbook should be considered an essential reference for a Roman military scholar.


Pen & Sword, Barnsley., Jan 2013



Reviewed : 2013-02-12 00:00:00
---